Fragments of an Umayyad Statue of a Standing Prince, Qasr al-Hayr West. 8th century?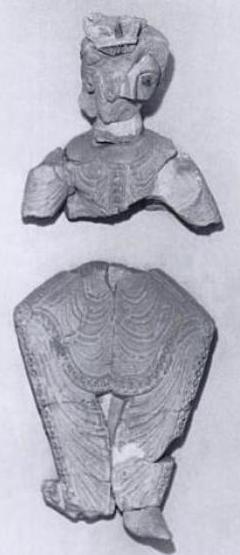 Standing prince, Qasr al-Hayr West, 8th century?
Figure 51, p.44, Islamic Art and Architecture 650-1250 by Richard Ettinghausen, Oleg Grabar, Marilyn Jenkins



---


It would seem, then, that this particular type of garment was adopted by the Sasanians. On the relief of the Investiture of Ardeshir II of the fourth century A.D. at Taq-i-Bustan, the king is clad in a tunic which seems to be gathered up at the sides thus producing a round apron effect in front (Fig. 7)52. Similar garments appear to be popular from the fourth to seventh centuries A.D.53. They continue in use into the eighth century A.D. where a representation of the garment is found in the Umayyad remains of Qasr el-Heir el-Gharbi. Fragments of a stucco statue of a prince show the figure clad in a tunic, the skirt drawn up at the sides54. Schlumberger describes the outline of the skirt as formed by belts lifting the hem on the sides at the hips55.
Source: The Representation of Costumes in the Reliefs of Taq-i-Bustan by Elsie Holmes Peck.

---

See also Umayyad Statue, Khirbat al-Mafjir, c.740AD. Rockefeller Archaeological Museum, Jerusalem.
Umayyad Soldiers on a Coin of Yazīd ibn al Muhallab, early 8th century AD, Gurgān: Coll. of the American Numismatic Society.
Umayyad Frescoes from Quṣayr ʿAmra, mid-8th century AD, Syrian, in situ, Jordan.
Illustrations of Arab Costume and Soldiers.