Toma Erdödy giving thanks for victory
with a vision of Christ crucified, 1620.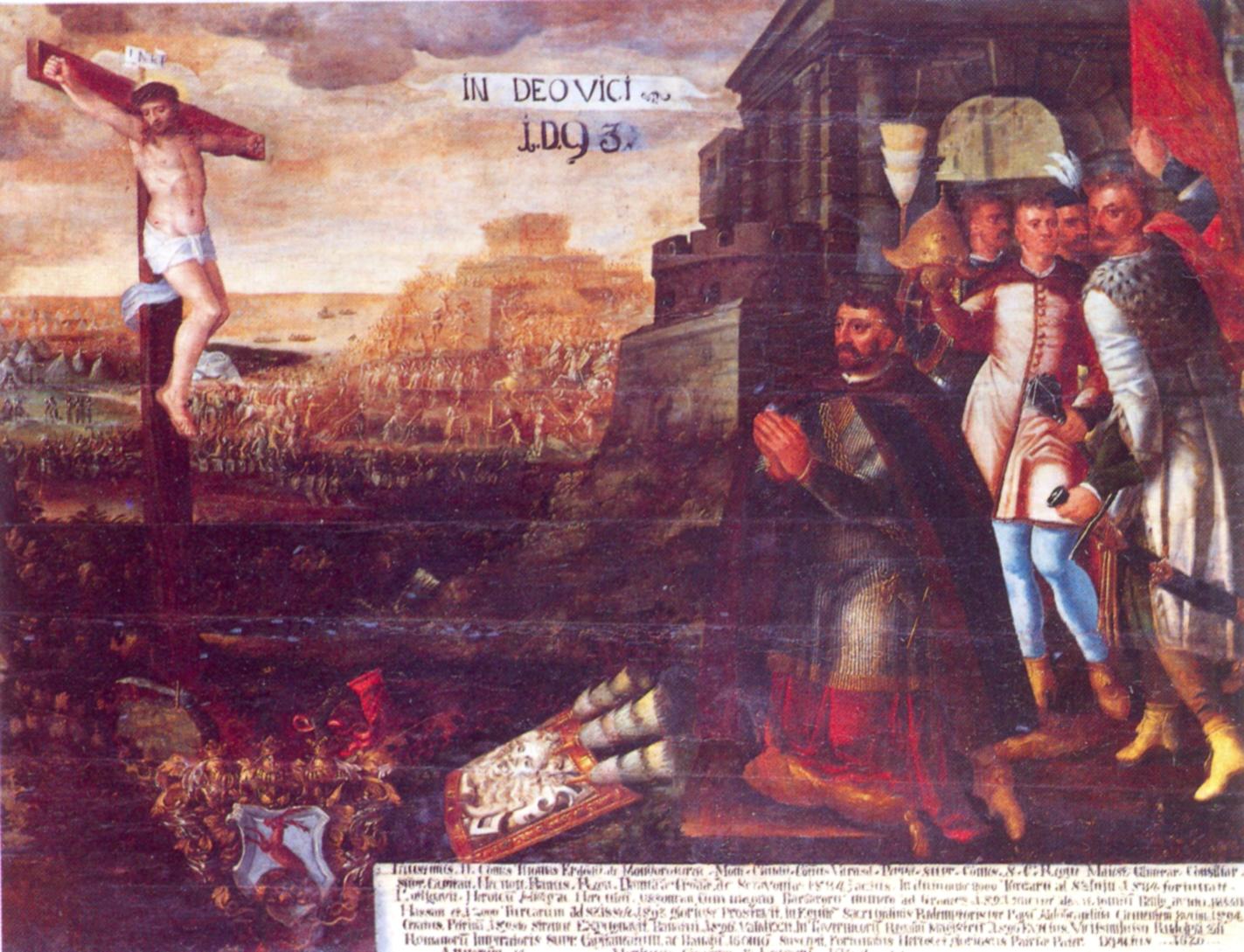 IN DEO VICI
In God I conquered

Count Thomas Erdődy (Hungarian: Tamás Erdődy, Croatian: Toma Bakač Erdedi) (1558 – 17 January 1624) was a Croatian ban between 1583-1595 and 1608-1615 and a member of the Erdődy magnate family of Hungarian ancestry.

He succeeded Krsto Ungnad as ban in 1583. He was the son of former ban Péter Erdődy. His first victory occurred at the battle of Slunj in 1584. In 1591 he freed the Moslavina region. In 1592 he suffered his only great defeat at the battle of Brest. When Ottoman forces tried to retake the area in 1593, the battle of Sisak ensued in which the Holy Roman Empire defeated the Ottoman Empire, severely hampering the Ottoman's ability to expand further into Europe. For this victory Erdődy received congratulations from Pope Clement VIII and was knighted into the Order of Saint Saviour by Philip II of Spain.

He left his role as ban in 1595. However, he reclaimed it from 1608 to 27 November 1614 when he renounced his position, but held his rank at the request of the Croatian Parliament until a new Ban, Benedikt Thuroczy, was named on 16 February 1615. Thomas Erdődy died on 17 January 1624.

---

See also the tomb effigy of Toma Erdödy in Zagreb Cathedral, Croatia, c.1624
Other illustrations of Hungarian Costume & Soldiers
17th Century Illustrations of Costume & Soldiers