Baptistère de Saint Louis
figures inside the rim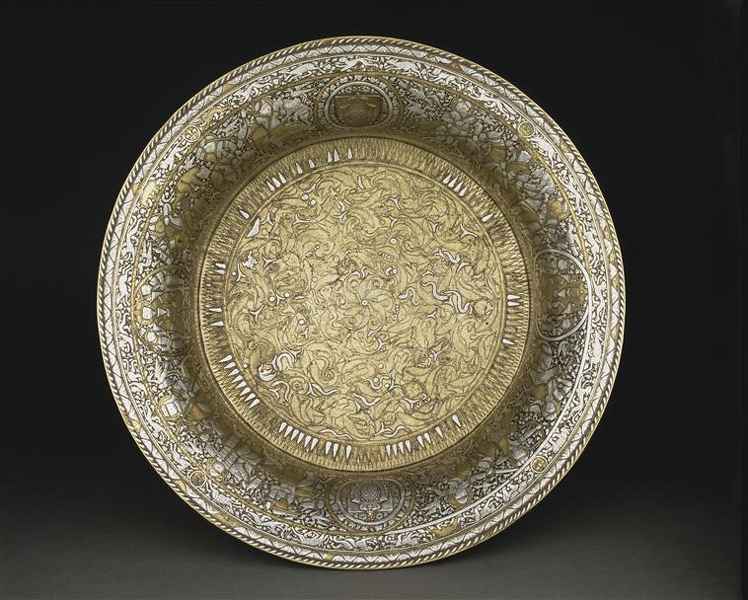 Picture source: Muzeo Collection. Held by the Musee du Louvre, Paris.


The Baptistère de Saint Louis is a hammered bronze basin inlaid with gold, silver and niello.
It was made by Mohammed ibn al-Zain about 1320–40 in Egypt or Syria, during the Bahri Mamluk reign (1250–1382). The maker of the vessel signed the work in Arabic six times.


The Mamluks, the majority of whom were ethnic Turks, were a group of warrior slaves who took control of several Muslim states and established a dynasty that ruled Egypt and Syria from 1250 until the Ottoman conquest in 1517. The political and military dominance of the Mamluks was accompanied by a flourishing artistic culture renowned across the medieval world for its glass, textiles, and metalwork.

The basin is an example of an object produced for one ceremonial context but later appropriated for another. It was probably commissioned by a wealthy Mamluk patron to serve as a banqueting piece or, alternately, as a vessel for ceremonial hand washing. Ultimately, however, it ended up in France, where it was used from at least the seventeenth century in the baptisms of children born to the French royal family. The various coats-of-arms on the basin were later worked over with fleur-de-lis, a motif that might have appealed to both the basin's original Islamic and later European owners. The flower was a popular Mamluk emblem in the thirteenth and fourteenth centuries as well as a heraldic device of the French royal family.


The basin received its name in the 18th century and was so called because it was used as the baptismal font for several royal children, including Louis XIII. (Despite the name by which it has been known since the 18th century, this vessel did not exist during the time of Louis IX, who died in 1270 and was canonized in 1297.)


Figures around the outside of the Baptistère de Saint Louis, Mamluk, Egypt or Syria, 1320–40AD. Musee du Louvre, Paris.
---
Mamluks in Armies and Enemies of the Crusades 1096-1291 by Ian Heath, based on the Baptistère de Saint Louis.