Fragmentary dish showing men stick-fighting
Fatimid Egypt, 11th century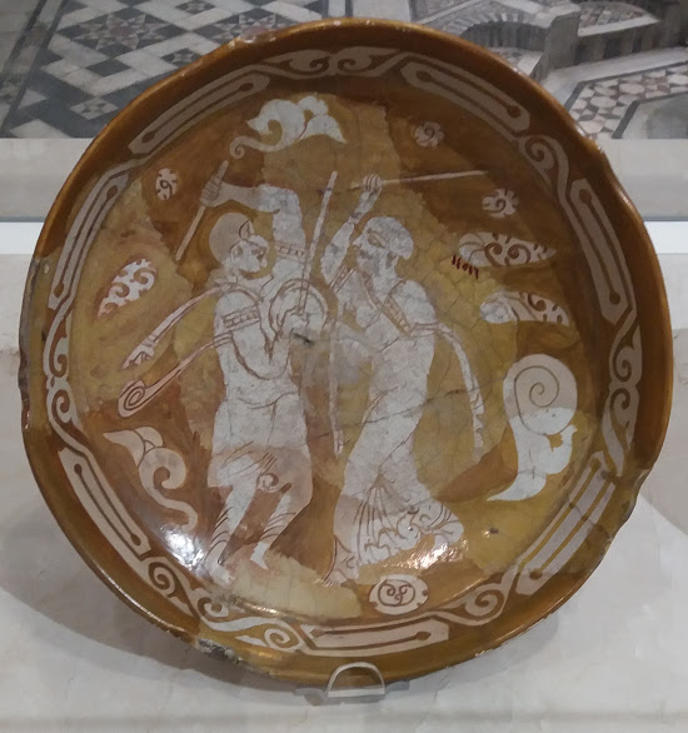 Picture source: Black Gate

The man on the right may have a tiny shield.

Referenced on p.78, The Art of Medieval Spain AD 500-1200, Metropolitan Museum of Art, New York
Fragmentary dish showing men dancing with large sticks. Glazed and luster-painted ceramic. Egypt, 11th century. Museum of Islamic Art, Cairo



---


Referenced as figure 150 in The military technology of classical Islam by D Nicolle

Vol. 2 p.388, During the Crusades, Muṭṭawī'ah volunteers came from Egypt, as they did from other parts of Ṣalāḥ al Dīn's empire,14 (Figs. 150 and 156), although by contrast many Egyptian cities unlike those of Syria, do not appear to have had their own aḥdāth.15

14. Gibb, "The Armies of Saladin," loc. cit.
15. Ibn al Athīr, "Al Kāmil fī ʾl Ta'rīkh," in Arab Historians of the Crusades, F. Gabrieli trans., (London 1969), p. 259.

---

Previous: Carved Wooden Frieze with Hunter, Fatimid Egypt, 11th Century. Museum für Islamische Kunst, Berlin, I 26/61.
Next: Fatimid bowl with a drinker, 11th century, David Collection Museum, Denmark
Fatimid Illustrations of Costume and Soldiers, 10th - 12th Centuries