Fatimid Coptic Priest on plate, 11th Century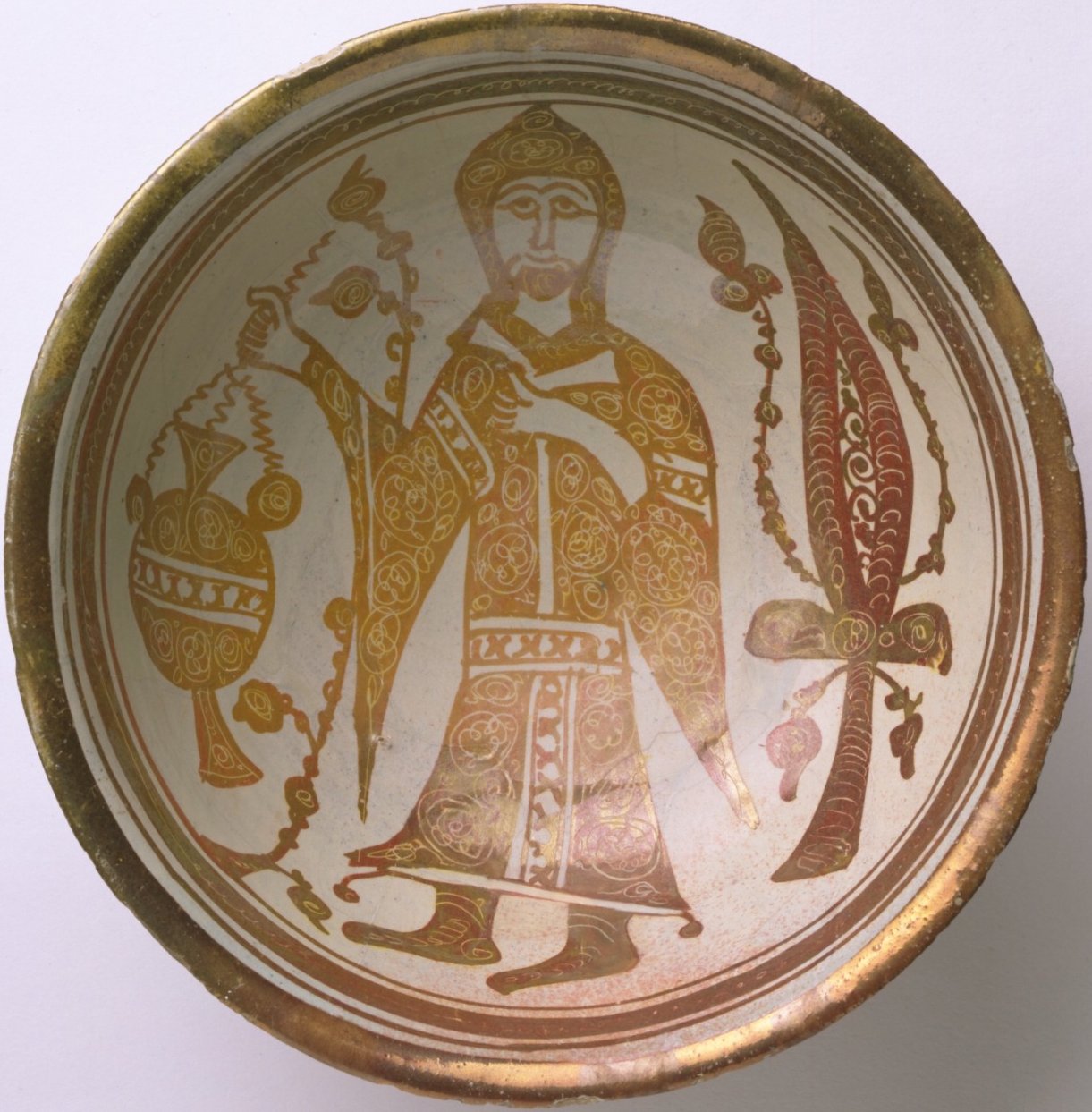 This Egyptian bowl has lustre decoration. It is one of the finest complete examples of the lustre-decorated pottery produced in Egypt under the Fatimid dynasty (ruled 969 -1171). Decorators had transferred the technique of painting in lustre over the glaze from glassware to pottery in Iraq at an earlier date. However, the quality of Egyptian wares of the Fatimid period is often much higher, as in this case. The decoration on the interior of the bowl shows a hooded man carrying a lamp or censer suspended on chains. The space to his left is filled with a cypress tree. The man has traditionally been identified as a Coptic priest. (The Copts are Egyptian Christians who have lived under Muslim rule since the 7th century AD and still form a substantial minority of Egypt's population.) The Arabic word Sa'd appears twice, back to front, on the outside of the bowl. It means 'happiness' but is also a common man's name. The same inscription appears on many other Egyptian lustre wares. It is not clear what it signifies. It may be a potter's signature, a workshop mark or the expression of a good wish by the maker for the future owner. Experts have dated this bowl to between 1050 and 1100. This is because a similar item was built into the facade of the church of San Sisto in Pisa, Italy, which was begun in 1070.

Source: Victoria and Albert Museum.


Previous: Hunter on an ivory drinking horn probably made in Muslim Sicily or Southern Italy, 11th century, Victoria & Albert Museum, London
Next: Shields on the Bab al-Nasr (Gate of Victory), 1087, Cairo
Back to the smaller image of this Fatimid Coptic Priest on plate, Egypt, 11th Century. Victoria and Albert Museum.


---